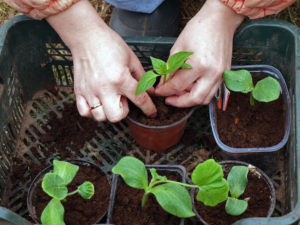 Club members work year round to grow, dig, divide, pot and plant-sit plants to raise funds for our grants and scholarship program and to provide quality plants at great prices for our members and the whole community.  Most plants come from a series of "potting parties" held in the fall and spring.  Sometimes these digs also help gardeners in our community by thinning overgrown gardens. Volunteers usually get a free plant at digs!
It is time to start digging and potting for our 2017 Evening Garden Club Plant Sale!
We encourage you to sign up on a specific date to bring your plants in or to schedule a dig in your (neighbor's, friend's, mom's) yard.
Wednesday, October 12
Thursday, October 20
Tuesday, October 25
Saturday, November 5
Noon to 5 pm at The Giving Garden
Shepherd of the Valley Lutheran, 2650 NE Highland, Corvallis
Why help?
It makes you feel good, you learn a lot, you make friends, you score great plants, get some exercise and most of all — it's FUN!
If you'd like to donate plant material, we have pots and soil and a team ready to work.  We can make arrangements to dig as well. For Fall 2016 we'll start scheduling in September to dig and pot in October and November; Spring 2017 digging and potting in March.
Don't judge each day by the harvest you reap, but by the seeds that you plant. Robert Louis Stevenson
To inquire about the Potting Parties and to sign up for a 'dig', please email us at:
gro.b1532164231ulcne1532164231dragg1532164231ninev1532164231esill1532164231avroc1532164231@ytra1532164231pgnit1532164231top1532164231