The Evening Garden Club's mission is to enhance our community by sharing our enjoyment of gardening through a wide range of fun, educational opportunities and philanthropic activities.
Join Us
Reasons to join our club!
Renew your acquaintance with mother nature
Escape social media and de-stress!
Grow your own vegetables, herbs and flowers for bouquets
Meet new friends
Exchange plants with other gardeners
Learn what grows best here
Grow an edible landscape
Listen to well-known speakers share their secrets
If you would like to become a member of the Corvallis Evening Garden Club, please JOIN HERE.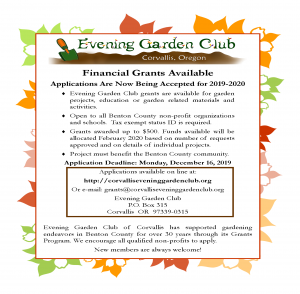 Grant applications are now being accepted for 2019-2020! Go to our Grants page to find out more.
PROGRAM CALENDAR 2020
Location: Community Room at Shepherd of the Valley Lutheran Church, 2650 NW Highland Drive, Corvallis, OR 97330
Programs start at 7:00 pm
*Lectures and Tours – $5 Donation for Non-Members
Strolling in the Garden, Camera in Hand
Monday, January 6th
Presenter: Doreen Wynja, Horticultural Photographer
CLICK HERE to view event flyer.
Preparing Gardens for Climate Change – Building Resiliency
Monday, February 3rd
Presenter: Fred Weisensee, Dancing Oaks Nursery
CLICK HERE to view event flyer.
A Medley of Conifers
Monday, March 2nd
Presenter: Mark Bloom, Bloom River Gardens
CLICK HERE to view event flyer.
The Joyful Garden: Finding Happiness in Your Garden
Monday, April 6th
Presenter: Vanessa Naegle, Seasons Garden Design
CLICK HERE to view event flyer.
It's Local, it's Sustainable, it Supports Community