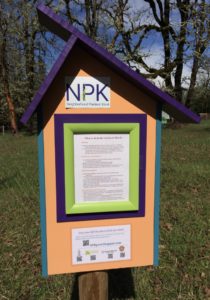 In the ever-changing landscape of online gardening information and advice, there are some resources that members of our club trust and go back to for expertise, inspiration and fun.
Local and community-based gardening resources and references:
The Corvallis Garden Resource Guide is updated annually

This downloadable PDF book includes resources for residents who are interested in growing their own food. While it is aimed at those who are new to gardening or new to the area, even longtime local gardeners are likely to discover something new.

The trusted source of evidence-based locally relevant information on growing plants in the Pacific Northwest:

Pacific Northwest Plant Disease Management Handbook 
PNW Insect Management Handbook 
PNW Weed Management Handbook
Where everyone can email, call or come in with their gardening questions: https://extension.oregonstate.edu/benton or
Submit their questions and get them answered by experts.
A calendar produced by OSU Extension, each month provides reminders of key garden chores, such as fertilizing, pest control, planting, and maintenance.

Neighborhood Planters' Kiosk program is helping to build thriving communities through garden information!

This is the place to find out about important garden events in our community and season (thinking seasonally) appropriate tips for your garden.
Also look for the kiosks around the town and in your neighborhoods!
Provides education, resources, and national networking opportunities for its members to promote the love of gardening, floral design and civic and environmental of Oregon (HPSO). Join one of the West Coast's largest gardening communities—almost 2,900 members strong! As a member of HPSO, you'll gain access to our top-notch educational programs, a wide array of local private gardens, a diverse domestic & international garden tour program, our magazine & newsletter, our horticultural lending library, and discounts at local garden retailers.
Information on native plants, invasive plants and other topics important to local gardeners.
Includes very useful guides on soil collection and interpretation of the test results.
Plant references:
A database on common and unusual landscape plants, including the locations where these plants grow in the area.
Missouri Botanical Gardens Plant Finder 
University of Connecticut Plant Database for Plant identification and Research 
Websites and blogs our members enjoy and heartily recommend:
Gardening with Kids:

How It Affects Your Child's Brian, Body and Soul for parents struggling to find ways to encourage their kids to eat a healthy and balanced diet, gardening can be an important tool.
This is a great portal to British sites for cooking, gardening, documentaries